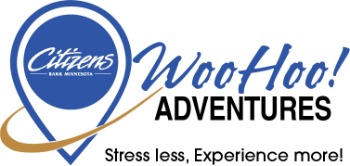 IMPORTANT INFORMATION REGARDING WOOHOO! ADVENTURES
It is with a heavy heart that we have decided to discontinue WooHoo! Adventures effective August 31, 2022. This was a very difficult decision, but with the decrease in travelers as more are choosing to travel on their own or with other agencies, and the increased liability while traveling, we have made the decision to discontinue the Club. We truly appreciate the past patronage to the Club, as the past 40 years of travel have been fabulous and very memorable! 
Please note that current members will keep the benefits with their account that include: Free Stop Pay, Free Official Checks and Money Orders, and Free Notarizing. Current members will also continue to be invited to any future bank events and future seminars that pertain to their banking relationship with us.
To assist with future travel opportunities, below we have listed information for a few New Ulm area travel agencies:
These are just a few that we are aware of and I'm certain there are many others we have not mentioned. Again, we thank you everyone for the many memories created while traveling throughout the years! 
Please note: If you are scheduled to go to Footloose at Chanhassen on August 17th, that trip will still go on as scheduled.