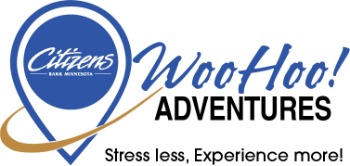 WooHoo! Adventures is designed as a perk for qualified Citizens clients 21 years of age or older. Membership offers travel opportunities, seminars and social events. Don't miss our next fun event! Join today!
Upcoming Adventures:
Footloose at Chanhassen Dinner Theater
Thielen Motorcoach Extreme Clean Procedures:  Coaches are thoroughly cleaned & disinfected after every trip. MERSA filters in the HVAC system are used to capture respiratory droplets. Cabin air is completely exchanged with fresh air every 8 minutes.
Benefits:
Quarterly E-Newsletter
Special Events
Free Stop Pay
Free Official Checks & Money Orders
Free Notarizing
Check out a few photos from our Colorado Mystery Trip!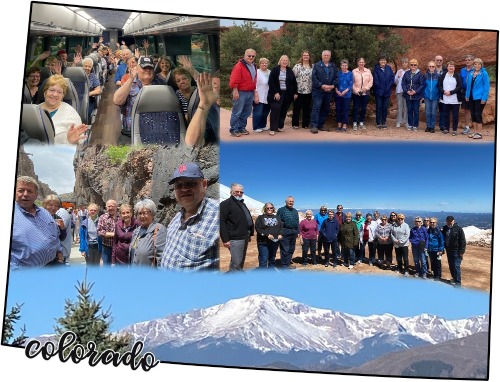 Membership Requirements
Must be 21 years of age or older and a client of Citizens Bank Minnesota

 

Must maintain an active* checking account with Citizens (*active is defined as having monthly transactions) along with one other bank product. (Savings, Loans, IRA, CD or Insurance)
Guidelines
Reservations begin on the date published in the travel newsletter and can be made by telephone, email or in person.
Payment or down payment must be received by published payment due date.
If a cancellation is necessary, we will make every effort to provide either a partial or full refund. However, we cannot always guarantee a refund. There may be times refunds will not be possible due to tickets purchased, meal numbers, guarantees, etc. The customer also has the option of trying to find someone to purchase their tickets. If a tour is cancelled due to insufficient reservation numbers, the customer will receive a full refund.
Tours in partnership with Wendinger Travel will follow their policy for payments and cancellation.
Weather Related Cancellations
Refunds are not guaranteed due to icy/snowy road conditions.
Tours depart unless the event is canceled.
WooHoo! Adventures staff & the bus company decide whether the conditions are safe for travel. Every effort will be made to refund those involved. Oftentimes, event tickets are non-refundable. Cancellations involving "non refundable" tickets may result in loss of payment. Tickets become your property once you place your reservation. If a tour is canceled by WooHoo! Adventures for reasons other than those weather-related, full refunds will be made.
Occasionally tours are subject to slight changes due to unforeseen circumstances that are out of WooHoo! Adventures control. We do what is best under those circumstances and assure you that the tour will still be great. If you have questions, please feel free to call or stop by. We try to find shows and trips that appeal to everyone in some way, so our goal is to have each show or trip full of members who are excited and eager to be going along! 
Contact WooHoo! Adventures Coordinator
Lori Dummer
for more information.