Online Banking

Do your banking anytime, anywhere with Citizens Online Banking!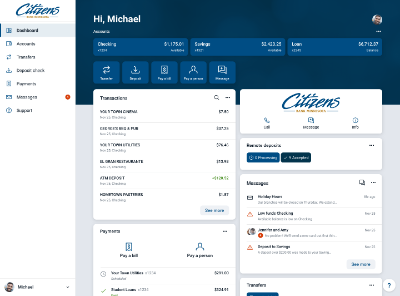 Features:
Check balances

Transfer funds

Pay bills

e-Statements

Message a bank representative

Organize dashboard

Re-name accounts

Link another financial institution
Online Banking Alerts
Don't be caught off guard with your finances. Online banking users have the option to set up Alerts! You can set up Balance and Transaction Alerts, all from your online banking! It's easy!
Go to 'Accounts'
Click on the account
'Alert Preferences'
Two alert types

Balance alerts
Transaction alerts

Can be notified by text, email or in-app message
Cash Management
Sweep Business Account

Make the most of your money by having extra funds in your checking account automatically transferred to your business line of credit. Set the amount you want to keep in your account, and we'll move the rest for you so you don't even have to think about it anymore.

We'll check your account daily to make sure you maintain your target balance and sufficient funds are available to maintain day-to-day cash flow for your business. We can even sweep money from other banks to your Citizens accounts!

Summary
Maximize returns

Fully automated

Secure transfers


Cash Concentration Accounts
If your business has multiple locations, you know what a hassle it can be to move funds from the outlying locations to the main office.
Utilize our cash concentration services to safely, conveniently, and cost-effectively move these funds so that you may invest, pay bills, or simply keep better track of your funds at a central location.
Summary
Added convenience

Completely secure

Easier tracking of funds


Dividend Payment Direct Deposit
Similar to paying employees their wage electronically, many of our corporate customers are finding that stockholders prefer receiving their dividends automatically deposited to their checking accounts.
Direct deposit of dividends is easy to sign up for, and it helps your business avoid the hassles of processing and mailing paper checks, re-issuing lost or stolen checks, and dealing with dividend check reconciliation. Plus it's generally much less expensive than mailing checks.
Summary
Secure electronic transfers

Get access to funds sooner

Safer than regular mail


Payroll Direct Deposit
Save money and time by signing up for direct deposit of payroll. It's easy to start, and you avoid the hassles of processing paper checks, re-issuing lost or stolen checks, hand-distributing checks to employees, and dealing with monthly check reconciliation. Plus, it's generally less expensive than processing paper checks if you have 15 or more employees.
Summary
Save postage

Save paper

Eliminate handling costs

Avoid reissuing checks


Direct Collections
Your business can benefit from a more assured and reliable collection of accounts from your regular customers, and more customers are demanding the convenience of being able to pay their bills via direct billing programs.
You get improved cash flow and reduce late payment issues while they enjoy more convenience and save on checks and postage. Direct collections from customers are a great way to make everyone happy.
Summary
Improved cash flow

Reduced collection costs

Avoid returned checks

Greater customer satisfaction