Online Banking

Do your banking anytime, anywhere with Citizens Online Banking!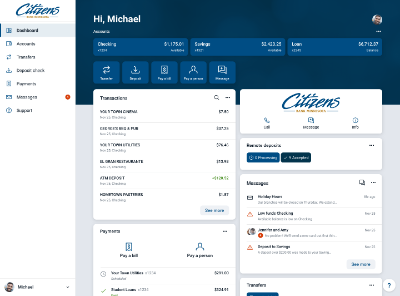 Features:
Check balances

Transfer funds

Pay bills

e-Statements

Message a bank representative

Organize dashboard

Re-name accounts

Link another financial institution
Need help logging into Online Banking using the two-factor authentication? Click on the image above to watch a short video walk-thru!
Getting e-Statements reduces the risk for fraud, clutter in your mailbox and allows you 24/7 access to your statements! Click on the video below to see just how quick and easy it is to enroll within your Online Banking!
Online Banking Alerts
Don't be caught off guard with your finances. Online banking users have the option to set up Alerts! You can set up Balance and Transaction Alerts, all from your online banking! It's easy!
Go to 'Accounts'
Click on the account
'Alert Preferences'
Two alert types

Balance alerts
Transaction alerts

Can be notified by text, email or in-app message
Online Bill Pay
With our Online Bill Payment service, you can make paying bills a snap. Forget licking envelopes, buying stamps, or running out to the mailbox. Save time, money, and frustration by paying all your bills from one secure website.
Person-to-Person Payments
This convenient feature allows you to send a person-to-person payment via text or email to anyone you choose, such as a landlord, babysitter, relative or more.
Gift Checks & Donation Pay
Have you ever been invited to a wedding or birthday party you couldn't attend? With our new gift check feature you can easily send a gift check or charitable donation personalized by you directly from your account.
(Gift Pay - $2.99 per transaction. Donation Pay - $1.99 per transaction)
e-Bill is a feature that allows you to link your bill summaries for eligible companies so that payment information (amount and due date) will show right within your Citizens Online Banking Bill Pay. You will also have access to the following:
View, download, or print a PDF of your current bill

Customer support information from the biller

An archive of previous bills
Ever had a payment due date sneak up on you? A great new option is to have your payments delivered faster than the standard schedule with an expedited check payment.
(Rush Delivery: May be scheduled until 4:00 PM ET. Check payment delivered to submitted physical address. Payment deducted from account when check clears. UPS tracking provided. Next day delivery - $19.95. Two day delivery - $14.95.)
If you elect to use the Bill Pay Service, by setting up payees, scheduling payments and identifying payment amounts, you are acknowledging that you want to use the Bill Pay Service. You authorize us to charge your Payment Account for person-to-person, gift check, donation pay, and expedited payment fees.
Online & Mobile Messaging
It is easier than ever to communicate with Citizens!

We have an option to chat with us using the messaging feature within Online Banking and our Mobile App! Ask about transactions, update your address, ask questions about your debit card and more. Check out this video for more details!. (Messaging feature is staffed during regular business hours.)

Alexa Voice Bill Pay
What is Voice Bill Pay?

A Voice Bill Pay skill, like iPay QuickPay, is a voice-driven capability that enables you to access certain information about your Citizens Bank Minnesota bill pay account on your Alexa-enabled device.
Once you've enabled the skill, you can ask Alexa to make a payment, provide payment history and check scheduled payments!
Who can I pay with iPay QuickPay?
You are able to make a payment to eligible payees you've added to your bill pay account
You can ask Alexa to list your payees if you are unsure of which payees you've added to your account


How do I get started with iPay QuickPay?
You will need an online bill pay account to start using iPay QuickPay. If you don't have an account yet, log in to your account at www.citizensmn.bank and click the "Bill Pay" link to access the enrollment form.
Then you'll need to add Alexa to your bill pay account. Here's how:
Log in to your account at www.citizensmn.bank and click the "Bill Pay" link

Select the "My Account" tab

Go to the Voice Bill Pay section and select the "Add Alexa" link

Answer the challenge phrase questions

Enter credentials and submit
This step completes the online setup.
Now it's time to link your bill pay account to iPay QuickPay:
Within the Alexa App on your mobile device, search for the iPay QuickPay skill and choose "Enable"

When prompted, enter the credentials you created in bill pay to begin linking your bill pay account to iPay QuickPay

Create a 4-digit PIN that you will remember since it will be requested every time you launch iPay QuickPay

Select "I agree, Link Account" to complete the account linking process

Now you can say, "Alexa, start iPay QuickPay"


How do I make payments with iPay QuickPay?
Just tell Alexa the payee you'd like to pay, the amount of the payment and the payment date.
External Transfers (Bank-to-Bank Transfers)
External Transfer feature is available for consumer client accounts upon request. Once enabled and setup, this feature allows you to transfer funds between linked deposit accounts within your Citizens Bank Minnesota Online Banking, and deposit accounts held at other U.S. financial institutions that are under your ownership and for which you have transfer rights.
Must have a consumer deposit account and Online Banking with Citizens Bank Minnesota

 

Must only enroll accounts from another financial institutions that are under your ownership, and for which you have transfer rights
Daily limits apply, please contact Citizens to request an adjustment
How to enroll?  Contact your local Citizens Bank Minnesota branch, or send us a message from within your Online Banking.

How To Protect Your Computer
• Update virus protection software periodically and after every new virus alert is announced
• Do not download files or open hyperlinks sent from people you don't know
• Use a firewall program to reduce the risk of your computer being accessible to hackers
• Enter personal and financial information only when there is a "lock" icon on the browser's status bar and look for URL to read "https" versus "http"
• If you must store personal and financial information on your computer:
Make all passwords hard to guess by using complex combinations of numbers and upper and lower case letters

Don't use an automatic log-in feature

Always log off when you're finished

• Before discarding a computer, delete personal information using a "wipe" utility program to overwrite the entire hard drive